The explosion of coronavirus infections (COVID-19) is now raging in all continents and taking on the contours of a real pandemic.
In this apocalyptic situation, the only hope for salvation (from the 20% mortality rate predicted by the virologists) is to isolate oneself and keep away from anyone: that is, not to leave home unless absolutely necessary!
This involves a considerable psychological stress on all of us…
so as I told you – [ in the previous article ] – to distract myself and not think the worst I started playing with crypto currency trading.
Obviously it must be undertaken with common sense and moderation, and I repeat: "do not risk beyond your availability". To have fun and kill time is enough a few tens of € (also because initially you have to learn and practice otherwise the disappointments are lurking). My advice is to start with something simple/easy.
I suggested in the previous article a first exchange, that is stellarport.io, a second valid decentralized and free exchanger I will explain/explain it in this article and in the next articles I will propose a third one.


Today I'll tell you about interstellar.exchange
Like stellarport.io the registration is very simple and does not present any difficulty as you can see… after choosing your language and the brightness of the background Thema you will be shown 6 pages of "quick instruction" with various information, confirm the arrows to the right and proceed… afterwards you will be asked to enter your
New Session Password
This wallet does NOT require any personal information to register.
The app only requires a password to encrypt your sensitive data on this device.
just fill in a password.
(of course write it down for safety before proceeding)
Once you get access the first essential operation to do is to create a new wallet (if you don't already have one) or insert your existing wallet as requested in the page:

by requesting a new random wallet you only have to take note of the data that will be provided (secret key and public key used for exchanges and/or user name)…
if you already have some of your own: use "import a single wallet" because it is easier.
Enter your secret key on the page below to import an existing wallet.
Enter an easy to remember word for the Username (of course write it down).

If you already have something in your wallet you can start, otherwise buy and/or pay a few tens of € in cryptocurrency with the wallet Wirex which allows you to buy XLMs directly.
The transfer is very simple just provide the destination address of interstellar.
When you have any coins available you can start exchanging with any coin (I suggest you start by getting XLM) Practice the functions on the left…
Home
Exchange
Trading
Offers
Chronology
Settings
Wallets
About A
by selecting Trading the screen with the currencies…

Once deposited on the interstellar a small amount, to practice, use very low value coins or very small fractions of BTC (mBTC) and/or Altcoins (established coins).
At the moment you will not find the token VOXT in the official list yet.
(we are waiting for registration on the price list)
Then you have to search for them manually in the top right panel (with that strange symbol representing the assets list) … two symbols of coins appear …

… choose right or left depending on whether you want to buy or sell and on at least one of them choose option Manual (top right) to set the VOXT selection.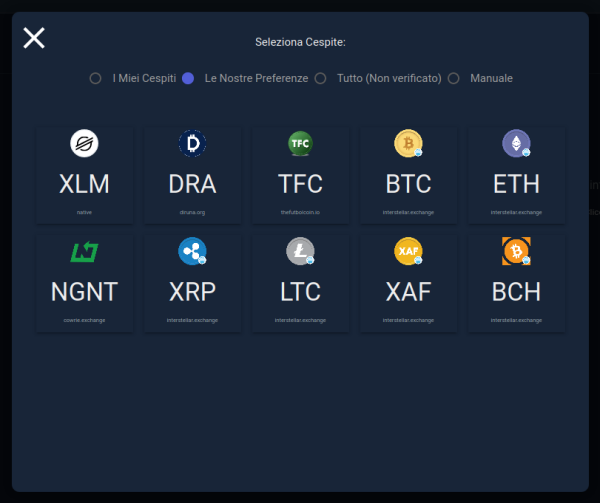 You must enter the public key of the VOXT (pub key issuer) =
GAWOIBUPT3PA4MQ6ZK5ZEUEUE7OWC3JJNI2OGJ7XOKTX5OFQYYKH3ESR56.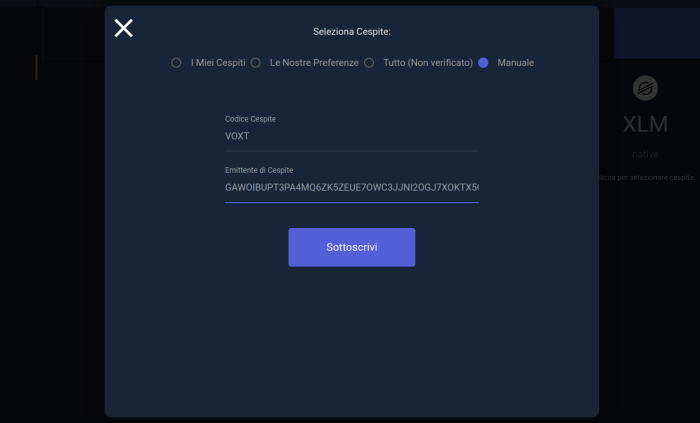 select the currency to exchange VOXTs with
(you can also do it later)
then of course: GO to start


At this point you will see that the trading panel is very intuitive and easy to use just select coins and use the sell/buy micro-transactions buttons to get familiar … you can follow the offers of sale and purchase and trading volumes.
trades are not said to occur instantly (if you want this you have to set the current trading price) … you can place an offer of sale and / or purchase and the platform if the conditions are met (i.e. if someone accepts your proposal automatically executes them … place the offer and go to sleep … "if they are roses will bloom" you can wait even days or weeks …
otherwise cancel the order and change the offer.
Anyone who asks me by email at st.george.dragonslayer@email.it I will send absolutely free 100 (one hundred) VOXT tokens.
(please specify in the evidence of the email the words: I would like to receive 100 (one hundred) VOXT tokens free of charge )
obviously with the enclosed instructions and information on how to use them from scratch.
if you have doubts or want info: write me in @mail and I'll reply with a dedicated article…
Bitcoin play in absolute anonymity with more winnings without taxes
Betmaster – online betting platform no AAMS/ADM – (without taxes) – also in Bitcoin
Cryptocurrency the coins of the future? i.e.: how to make bitcoin bets
Bitcoin play anonymously on the Betmaster online betting platform – no AAMS / ADM – (without fees).

Click here to try Betmaster… immediately a 100% welcome voucher
If you want to find more info: in these two articles is clearly explained in a very simple way how to use Bitcoins…
Greetings to all and goodbye to the next article…