How can we endure this hateful quarantine that forces us to remain prisoners as if we were criminals under house arrest?
This is the third article in which I explain, to those who have not yet acquired skills and knowledge in relation to cryptocurrency, the easiest and even fun way to get acquainted and approach a world where sooner or later we will all be forced to enter, exactly as we have learned to use the smartphone and / or ATM.
In the two previous articles we saw how to use stellarport.io and/or interstellar.exchange.
.
Today I'll tell you about stellarterm.com
Like stellarport.io and/or interstellar. exchange the registration is very simple and does not present any difficulty, if you already have your own personal address just enter the secret key or proceed to the 1st registration and you will be automatically provided with one and its address (public key) as you can see on the page you can also connect with hardware wallets (such as Ledger device and / or Trezor Hardware Wallet).
if you already have your address and related keys proceed … then you will be asked to enter your secret key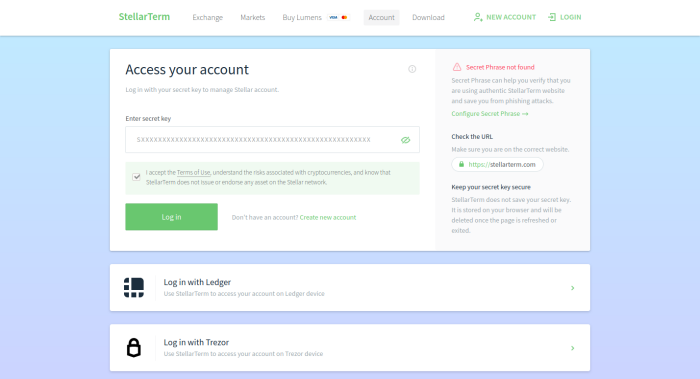 …and you are immediately operational… you can also buy currencies with VISA/mastercard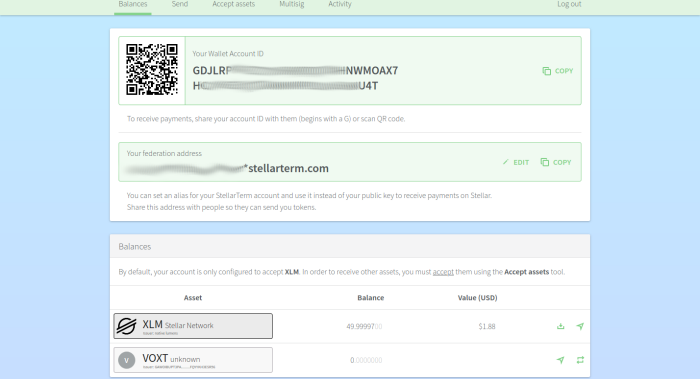 Where's the money kept?
In the Stellar network, funds exist in the network and can only be moved by those who have the secret key. This means that your secret key is extremely sensitive and whoever has access to it can move the funds. However, the money is NOT actually "inside" StellarTerm. StellarTerm is just a useful tool that helps you to use your secret key to make transactions.
WARNING: Be very careful with your secret key and do not share it with anyone.
Reserved balance
The Stellar network requires that accounts maintain a minimum balance. A minimum balance of 1 XLM is required with an additional requirement of 0.5 XLM for each account item, such as a trustline or offer. You can learn more about Stellar development documents.
Each entry (accepted activity, offer, signatory) increases your minimum balance by 0.5 XLM. In addition, StellarTerm applies a minimum balance of 0.5 XLM to try to ensure that your account can still perform transactions without falling below the minimum network balance requirements.
To decrease the minimum balance, you can remove an existing offer or not accept an asset. If you wish to close your Stellar account and withdraw assets somewhere else, you can use the Account Merge tool.
Then start by initially funding the wallet with at least twenty XLM.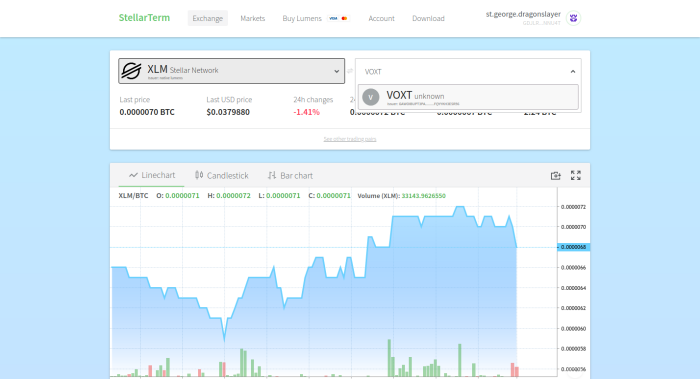 VOXTs are not yet in the price list so you must (as in the picture above) in one of the two windows at the top type VOXT (uppercase) and they will appear… confirm and you can start exchanging them.
Exchange the position of the two bars at the top right & left depending on how you prefer to work with coins…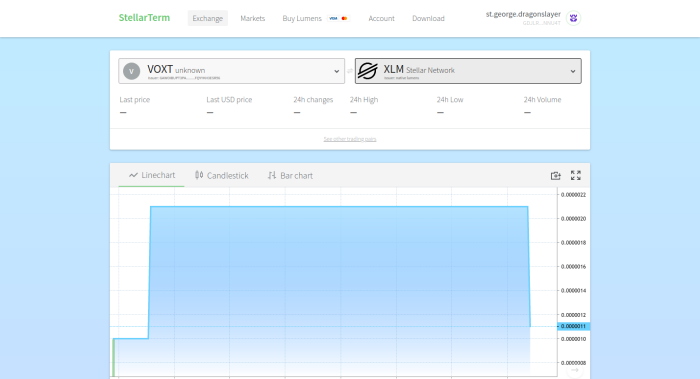 .
…and select buy/sell to buy or sell. You will learn in a few minutes to dominate all the functions … the developers of this App have done a really great job making everything very simple and extremely intuitive.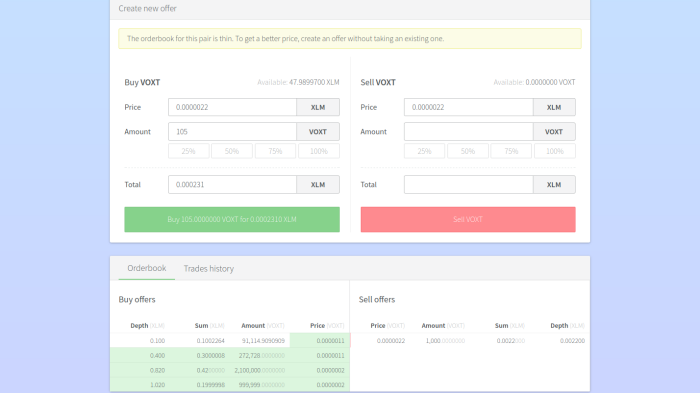 If you don't find VOXT in the price list you can also enter it manually from the Markets function (bottom left in one of the 2 assets) just enter in the VOXT search and the issuer's public key (copy and paste).
GAWOIBUPT3PA4MQ6ZK5ZEUEUE7OWC3JJNI2OGJ7XOKTX5OFQYYKH3ESR56.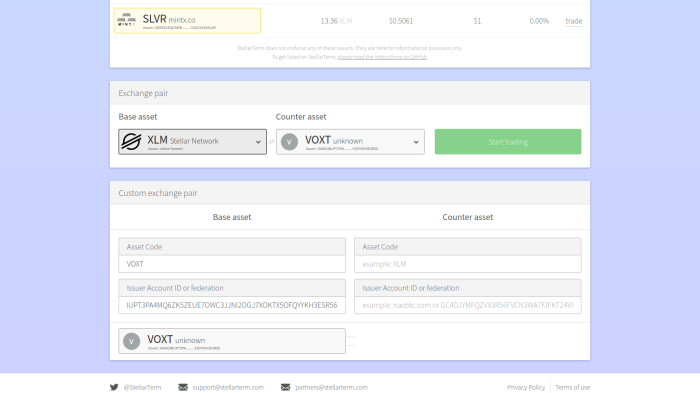 At this point you will see that the trading panel is very intuitive and easy to use just select coins and use the sell/buy micro-transactions buttons to get familiar … you can follow the offers of sale and purchase and trading volumes.
trades are not said to occur instantly (if you want this you have to set the current trading price) … you can place an offer of sale and / or purchase and the platform if the conditions are met (i.e. if someone accepts your proposal automatically executes them … place the offer and go to sleep … "if they are roses will bloom" you can wait even days or weeks …
otherwise cancel the order and change the offer.
Anyone who asks me by email at st.george.dragonslayer@email.it   I will send absolutely free 100 (one hundred) VOXT tokens.
(please specify in the evidence of the email the words: I would like to receive 100 (one hundred) VOXT tokens free of charge )
obviously with the enclosed instructions and information on how to use them from scratch.
if you have doubts or want info: write me in @mail and I'll reply with a dedicated article…
Bitcoin play in absolute anonymity with more winnings without taxes
Betmaster – online betting platform no AAMS/ADM – (without taxes) – also in Bitcoin
Cryptocurrency the coins of the future? i.e.: how to make bitcoin bets
Bitcoin play anonymously on the Betmaster online betting platform – no AAMS / ADM – (without fees).
If you want to find more info: in these two articles is clearly explained in a very simple way how to use Bitcoins…
Greetings to all and goodbye to the next article…